Danmark møder Frankrig i EM-semifinalen
Danmark ender på andenpladsen i deres pulje efter en hård kamp mod favoritterne fra Storbritannien.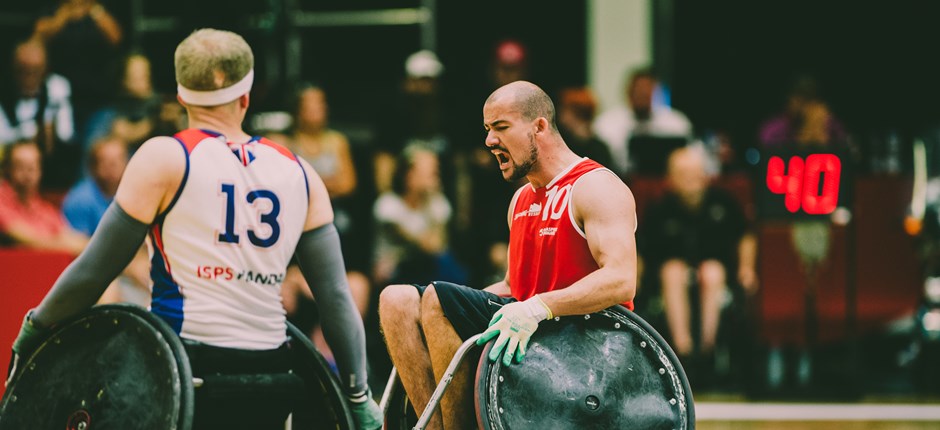 Udgivet 09-08-2019 (Opdateret 10-08-2019)
Fredagen til EM i kørestolsrugby bød på flere spændende opgør, da de otte nationer skulle kæmpe om at få de bedste placeringer i gruppespillet, inden finalprogrammet begynder i weekenden. Trods det første nederlag i turneringen lykkedes det for det danske landshold at sikre sig andenpladsen i pulje B. 
Dagens første kamp på programmet var et opgør mellem Polen og Schweiz, og de to hold kæmpede om tredjepladsen i pulje B. Kampen endte lidt overraskende med resultatet 45 – 35 til Polen, og Schweiz har derved stadig en sejr til gode i turneringen, når de i morgen møder Tyskland.
De næste to nationer, der skulle på banen fredag formiddag, var Tyskland og Holland, der ligeledes er ude af kampen om medaljer. Der var dog en tredjeplads i pulje A på spil. Efter en tæt kamp i går mellem Tyskland og Sverige, hvor Tyskland måtte se sig slået på målstregen, var de på banen for at kæmpe for deres første sejr i turneringen. Kampen endte 70 – 45 til Tyskland, der blev fejret af et fyldt Spectrum med besøg af 250 elever fra Egmont Højskolen.
Polen, Schweiz, Tyskland og Holland kæmper nu videre om deres fremtid i Division A.
Eftermiddagen startede ud med et brag mellem Sverige og Frankrig, der begge havde deres øjne fast rettet mod pulje A's førsteplads, for at få den mest fordelagtige lodtrækning til lørdagens semifinaler. Efter to tætte perioder endte kampen med en sejr til Frankrig på 56 - 38.
I fredagens sidste kamp var danskerne på banen, og denne gang stod de overfor de forsvarende europamestre fra Storbritannien. Det var et tæt pakket Spectrum i Vejle, der heppede på det danske hold fra start til slut og var med til at holde energien høj i en svær kamp. Danmark gav briterne den hidtil største modstand i turneringen, og formåede at score over dobbelt så mange mål som Storbritanniens tidligere modstandere. Danskerne måtte dog, som det tredje hold i rækken, bøje sig i støvet, og selvom de kæmpede en brav kamp, måtte danskerne forlade banen med et slutresultat på 63 – 45 til Storbritannien. 
Om kampen fortæller den danske landsholdsspiller, Morten Elmholt:
 - Vi kom lidt i problemer, da vi løb tør for timeouts i anden periode. Derefter prøver vi at sparre nogle af vores første lineups, og jeg synes egentlig, vi viser god bredde på bænken. Jeg er godt tilfreds, og jeg synes også, jeg viser, at jeg kan være med her. Storbritannien er et rigtig godt hold. Der er en grund til, at de er mestre. Det er lidt ærgerligt, at vi ikke kan holde den tæt lidt længere, men nu skal vi fokusere på i morgen, og så kan vi jo håbe, vi får en chance for revanche på søndag.
I morgen, lørdag, begynder semifinalerne og nedrykningsspillet. Det bliver spændende at se, om det danske landshold kan stoppe Frankrigs sejrsrække, når de i morgen klokken 15.30 skal prøve at spille sig i finalen, og derved sikre sig en plads til de Paralympiske Lege i Tokyo 2020.
Kom forbi DGI Huset i Vejle og hep med fra tribunerne eller følg med online på DRTV.