Cathrine Rosengren tester formen i Tokyo
I denne uge spiller Cathrine Rosengren en turnering i Tokyo, hvor parabadmintonspillere fra hele verden kan komme og prøve spillet af i de fremtidige paralympiske badmintonhaller.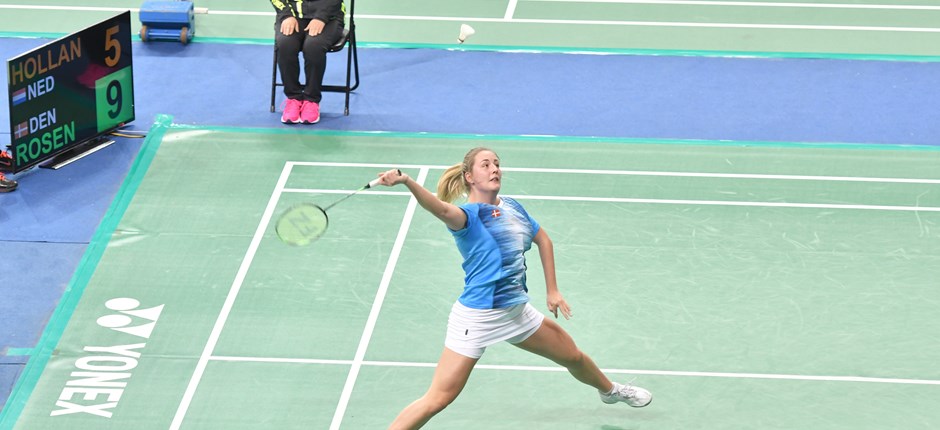 Denne uge løber HULIC・DAIHATSU Japan Para-Badminton International 2019 af stablen i Tokyo, Japan. Det er en stor international turnering for parabadminton, der for første gang er på programmet til de Paralympiske Lege (PL) i Tokyo 2020. Turneringen er en test-turnering forud for næste års PL, og bliver derfor afholdt i de samme haller på Yoyogi National Stadium. Det er tredje år i træk, at denne internationale turnering afholdes af Badminton World Federation (BWF) i Japan. 
Blandt deltagerne i turneringen er danske Cathrine Rosengren, der stiller op i damesingle i kategorien SU 5, der er en stående kategori for spillere med skade i overkroppen. I denne turnering stiller 12 spillere op i SU 5 klassen, hvor Rosengren er tredjeseeded, kun overgået af Ayako Suzuki fra Japan og Quixia Yang fra Kina. 
I morgen, onsdag d. 13. november, starter gruppespillet i gruppe C, hvor Rosengren skal møde Putu Christiani fra Indonesien, Tongtong Li fra Kina og Kaede Kameyama fra Japan. Første modstander er Li fra Kina omkring klokken 13.40. Rosengren har tidligere vundet over kineseren to gange i tre sæt, så der er lagt op til en spændende kamp.
- Det er en ret hård pulje jeg er kommet i denne gang, men så får jeg nogen gode kampe i hallen, og det er det vigtigste for mig ved denne turnering. Jeg forventer, at jeg går videre fra puljen, forhåbentlig med en førsteplads, fortæller Cathrine Rosengren.
Cathrine Rosengren har døjet med en knæskade de sidste par måneder, og allerede tilbage i september afholdt skaden den danske parastjerne fra en semifinale i den store turnering China Para-Badminton International 2019. Rosengren mærker dog ikke meget til skaden længere, men formen er ikke den bedste, da træningen ikke har været optimal i skadesperioden.
- Jeg forventer egentlig ikke, at jeg kommer til at stå i finalen efter alle problemerne med mit knæ. Jeg vil dog gøre mit bedste. Yang fra Kina, som jeg tabte til ved VM tidligere i år, er med i turneringen, og jeg står til at møde enten Yang eller Suzuki i semifinalen. Mine forhåbninger er derfor at spille mig i semifinalen og så have en god kamp, fortæller Cathrine Rosengren og supplerer:  
- Jeg er tilfreds med min sæson indtil videre. Jeg kan mærke, at jeg har udviklet mig meget. Det irriterer mig dog lidt, at jeg har fået sølv og bronze hele året, jeg føler, at jeg mangler en finale og -turneringssejr.
Læs mere om turneringen og følg med i Cathrine Rosengrens resultater her.