"Det var sjovt – og vi vandt!"
Årets to fodboldstævner for specialskolebørn havde rekordmange deltagere. Knap 1000 børn havde en sjov og svedig dag på fodboldbanerne i Silkeborg og Brøndby, og i år blev også de yngste elever inviteret med.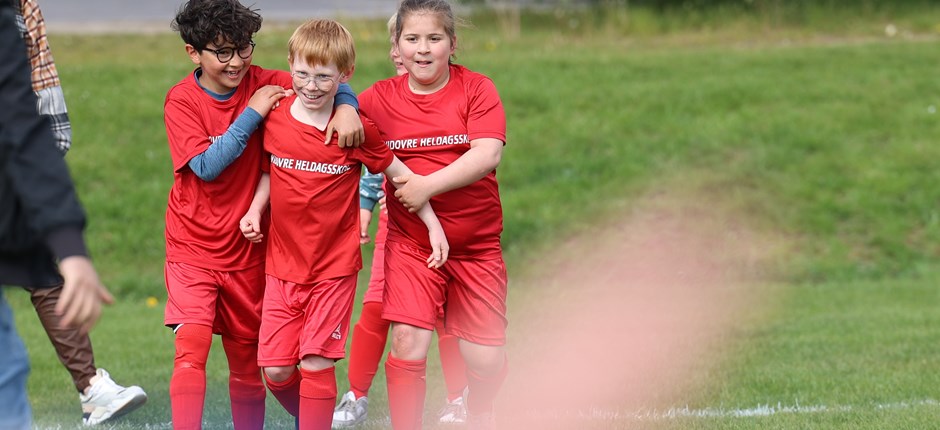 TEKST: ANE RØNN JOHANSSON
Der bliver uddelt masser af high fives og givet opmuntrende klap på skulderen i den første kamp for de yngste elever, og højlydte dessiner fra trænerne blander sig med hujende klapsalver fra begejstrede forældre og lærere. Det er den 17. maj, og vi er på fodboldbanerne ved Brøndby Hallen, hvor den østlige udgave af årets skolefodboldstævne for børn og unge med udviklingshandicap eller særlige behov er fløjtet i gang.
Som noget nyt i år er aldersgruppen udvidet, så også de yngste elever er med. Blandt dem er Nicolai og Malthe på 9 år fra Hvidovre Heldagsskole. De har kan næsten ikke skjule begejstringen, efter at sejren i første kamp er en realitet:
– Det var sjovt – og vi vandt!, jubler Malthe på spørgsmålet om, hvordan det er at være med. Han suppleres af Nicolai:
– Det er bare sjovt at spille kamp. Det bedste er, når vi vinder!
– Ja, og også bare at være med, siger Malthe, inden de to løber hen og slutter sig til holdkammeraterne, der puster ud inden den næste kamp.



Fællesskab i spillerbus
I den modsatte ende af de mange boldbaner bryder jublen løs efter en scoring i en kamp mellem nogle af de ældre elever. På sidelinjen står Tårnbygårdsskolens hold, der har spillere med fra 6.-9. klasse, og ser deres kommende puljemodstandere an.
15-årige Silas fra 7. klasse har set frem til dagen:
– Det har været rimelig sjovt, faktisk. Vi har ventet ret lang tid på det, faktisk, for vi træner hver fredag. Og så er det bare fedt ikke at skulle sidde inde i klassen.
Det er første gang, at skolen har et hold med i skolefodboldturneringen, og de har gjort meget ud af at lave en god oplevelse for eleverne, fortæller deres lærer Martin Svendsmark Hansen:
– Det startede egentlig med, at vi begyndte at lave fodboldtræning på skolen hver fredag for alle dem, der havde lyst til at være med. Det har der været rigtig stor opbakning til, og det har givet eleverne rigtig meget socialt på tværs af klasserne, siger han og fortsætter:
– Da vi så fik en invitation til det her stævne, synes vi, det kunne være sjovt at være med. Så det er vores første turnering, og vi har fået nyt spilletøj, og vi er kommet hertil i spillerbus sammen, så det har virkelig givet den der holdfølelse. Det er rigtig fedt og har været en megafed oplevelse, siger han.


Skolefodboldstævnet 2023
Skolefodboldstævnet havde deltagelse af 49 hold i Silkeborg den 16. maj og 42 hold i Brøndby den 17. maj 2023.
Deltagerne er piger og drenge med udviklingshandicap, ADHD, autisme og lignende i alderen 6 til 18 år fra specialskoler og specialklasser. I år blev der spillet to forskellige turneringer:
8-mands for blandede hold i alderen 13-18 år.
5-mands for blandede hold i alderen 6-12 år.
Parasport Danmark står bag skolefodboldstævnet i samarbejde med Silkeborg IF, Brøndbyernes IF, DBU Jylland og DBU Sjælland.
Skolefodboldstævnet er en del af Parasport Danmark og DBU's nye børnefodboldsatsning, 'En del af holdet', som skal få flere børn og unge med handicap og særlige behov i gang med at spille fodbold. Ud over at få etableret børnehold i fodboldklubber over hele landet bliver der afholdt både lokale og regionale stævner, som børnene kan deltage i.