Rugby-landsholdet hyldet
Landsholdet i kørestolsrugby vinder prisen som Pressalit Årets Para-atlet 2022.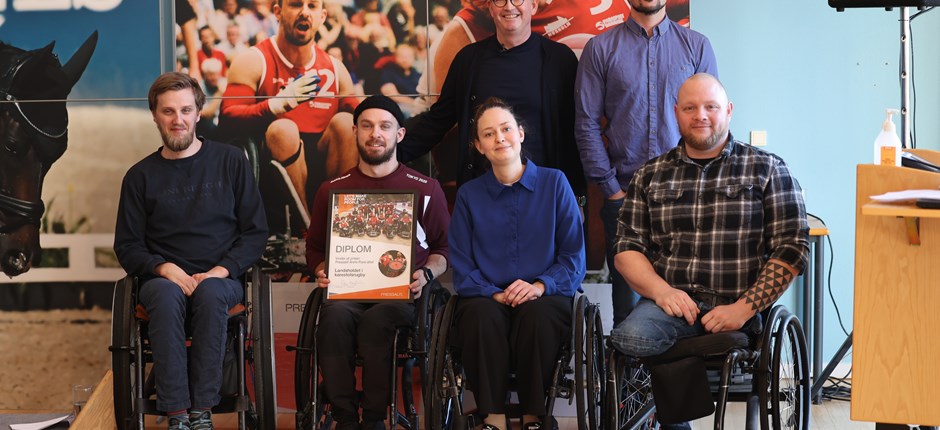 Det danske landshold i kørestolsrugby har fortsat rejsen mod den absolutte verdenselite, og kunne den 9. februar i år krone et flot 2022 med prisen Pressalit Årets Para-atlet 2022.
Ved EM i Paris i februar 2022 vandt det danske landshold bronze, og i oktober viste holdet imponerende spil på hjemmebane i Vejle ved VM, hvor det for første gang nogensinde blev til en placering i top-4. Holdet blev løftet frem af de flere end 10.000 begejstrede tilskuere, der lagde vejen forbi DGI Huset i Vejle, og spillerne fik vist parasporten frem på fornemste vis.
- Landsholdet i kørestolsrugby er indbegrebet af prisen, der både vægter præstationer og repræsentationen af dansk parasport. Jeg har fulgt holdet i mange år og var med på sidelinjen til VM på hjemmebane, hvor de leverede én af de mest intense, seværdige og indlevende præstationer, jeg har nogensinde har oplevet. Samtidig så vi et landshold, der med deres spil på banen og generøsitet uden for formåede at samle flere tusinde tilskuere på tværs af aldersgrupper. Det kalder på anerkendelse, fortalte direktør i Pressalit, Dan Boyter.
Til at modtage prisen og de medfølgende 40.000 kr. var fem af landsholdsspillerne - blandt andre Sebastian Frederiksen:
- Det er stort, det havde vi ikke regnet med. Men det har været nogle hårde år, hvor vi virkelig har kæmpet, så det er rigtig dejligt at få det her klap på skulderen, og det giver helt sikkert motivation, selvtillid og lyst til at arbejde videre, sagde han.
De to øvrige nominerede til prisen var dressurrytterne Tobias Thorning Jørgensen og Katrine Kristensen, der begge vandt en to individuelle VM-guldmedaljer og en sølvmedalje for hold ved VM i Herning i august 2022.
PRESSALIT ÅRETS PARA-ATLET
Pressalit A/S tilbyder fleksible køkken- og badeværelsesløsninger til mennesker med nedsat funktionsevne, og her er der som i parasporten fokus på at fjerne begrænsninger og skabe nye muligheder. "Pressalit Årets Para-atlet" er en måde at honorere para-atleter, som gennem deres sport er gået forrest, har grebet mulighederne og har arbejdet dedikeret for at kunne toppræstere.
UDDELT FOR 21. GANG
Prisen er blevet uddelt siden 2002, hvor Pressalit blev hovedsponsor for Parasport Danmark. De fem seneste vindere er:
2017: Daniel Wagner, atletik
2018: Stinna Tange Kaastrup, ridning
2019: Lisa Kjær Gjessing, taekwondo
2020: Landstrænerteamet, skydning
2021: Tobias Thorning Jørgensen, paradressur