Hyldet for fightervilje og vindermentalitet
Paradressurrytter Tobias Thorning Jørgensen blev hædret med Kulturministerens Parasportspris 2022.
Der var ingen over og ingen ved siden af 22-årige Tobias Thorning Jørgensen, da han på hesten Jolene vandt to individuelle guldmedaljer og samtidig var med til at sikre Danmark sølv i holdkonkurrencen ved VM i dressur på hjemmebane i Herning i august. Ved DR's store show Sport 2022 blev hans flotte præstationer hædret med Kulturministerens Parasportspris 2022. Med prisen følger 100.000 kr.
Kulturminister Jakob Engel-Schmidt begrundede valget af Tobias Thorning Jørgensen således:
- Tobias Thorning Jørgensen er ikke kun en af verdens bedste paradressurryttere, han tilhører også den absolutte verdenselite, når det kommer til fightervilje. Jeg er fuld af beundring over den indædte stålsathed og vindermentalitet, han udviser. Ikke mindst i forbindelse med det flotte comeback efter et hårdt genoptræningsforløb.
Tobias Thorning Jørgensen var både glad og stolt over prisen.
- Tusind tusind tak, det er en kæmpe ære at få sådan en pris her, sagde han og sendte samtidig en stor tak til alle dem, der står bag ham.
Ud over Tobias Thorning Jørgensen var også landstræner i parataekwondo, Bjarne Johansen, og landsholdet i powerchair floorball nomineret til prisen.
DE NOMINEREDE
Bjarne Johansen, landstræner i parataekwondo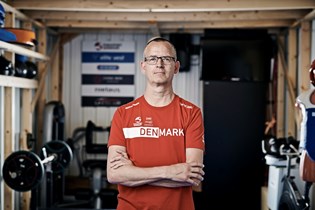 Bjarne Johansen igangsatte i 2022 sammen med PL-guldvinder Lisa Kjær Gjessing en redningsaktion, hvor det lykkedes dem at få 14 ukrainske parataekwondokæmpere, samt deres landstræner, sikkert til Danmark. Bjarne hjalp holdet med indkvartering, og med at finde sig til rette i Danmark. I dag har flere fået arbejde ved siden af deres danskundervisning og træning.

Powerchair Floorball-landsholdet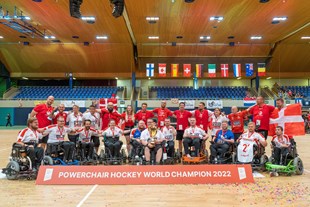 Powerchair Floorball-landsholdet vandt VM i 2022. Landsholdet består af ti fantastiske individer, der har fundet et særligt sammenhold og livsglæde omkring konkurrencepræget sport. Atleter og trænere har med deres vilje og passion for Powerchair Floorball formået at udvikle det danske landsholdsprojektet fra at være en fritidsaktivitet til et toptunet setup.

Tobias Thorning Jørgensen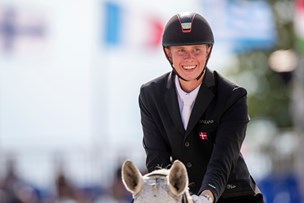 Tobias Thorning Jørgensen vandt i 2022 to individuelle guldmedaljer og en hold-sølvmedalje ved VM. Tobias har en sjælden muskelsygdom, og var i 2018 ude for et styrt, hvor han brækkede lårben, korsben, bækkenet og hans venstre arm. Men han gik til genoptræningen med stort engagement og vindermentalitet, og efter tre måneder var han tilbage i sadlen. Han er både en dygtig atlet og en fantastisk rollemodel.