Frivillig IFORM: "Jeg går glad afsted og kommer endnu gladere hjem"
Birthe Stormark har i 50 år været svømmetræner hos Parasport Aalborg. At følge udviklingen og medlemmerne over alle årene har været en stor oplevelse.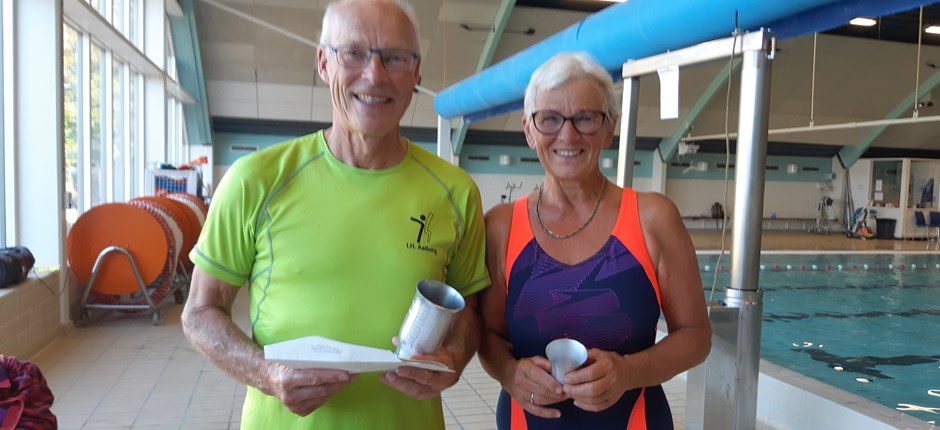 Tekst: Jørn Erik Simonsen
Da I. H. Aalborg åbnede dørene for første gang 6. juni 1972, var den nyuddannede svømmelærer Birthe Stormark blandt de allerførste svømmeinstruktører. Siden da har hun været engageret i foreningen sideløbende medsit arbejde som lærer. Sidste år havde hun 50-års jubilæum. 

Hvorfor er du frivillig?
Arbejdet på skolen og i foreningen ligger ikke så langt fra hinanden idet engagement, nærvær og empati er vigtige faktorer for læring uanset, hvor det foregår. Det at give noget til andre er så befordrende – også for en selv. Det at kunne glædes sammenhver gang et mål nås, giver en fantastisk lykkefølelse.

Hvad er din største oplevelse?
Uha, der har været mange gennem årene. Vi afviklede store svømmestævner i de første år for både fysisk- og psykisk handicappede svømmere. Medaljehøsten var stor og stoltheden lyste ud af øjnene på deltagerne, der kunne fremvise en hel bunke medaljerom halsen. Et skønt syn.
Glæden er stor, når medlemmer vender tilbage til bassinet efter en tid – eller års pause. Mange har svømmet hos os som børn og kommer igen som voksne. Så det må have haft betydning for den enkelte. Vi har haft nogle, der trofast er kommet gennem 30 – 40 år. Uge efter uge er de mødt op, har dannet venskaber gennem idrætten og oplevet glæden ved at bevæge sig i vandet. At kunne 'bevæge sig frit' på grund af vandets opdrift og støtte, og dermed kunne bruge kroppen på en måde, der ofte ikke kan lade sig gøre på land. Det er stort!

Hvad er du mest stolt over?
At have været med i klubben over så lang tid og kunnet følge udviklingen. At have oplevet, at mennesker med alle slags handicaps ikke behøver at være begrænset, men får mulighed for at deltage i idræt og finde netop det sted blandt foreningens mange idrætstilbud, som passer dem bedst.
På det mere personlige plan tror jeg, samtalen med den enkelte har størst betydning. Muligheden for at grine sammen, når tiden er til det og lige så vigtigt at være lyttende, når det er påkrævet.
Min glæde ved min involvering har haft en afsmittende virkning i min familie, idet både børn og ægtefælle i dag yder en indsats som frivillig. Det gør mig enormt glad og stolt.
50 år kan synes som lang tid, mendet synes jeg ikke, det har været.. Jeg har ingen intentioner om at stoppe, og så længe jeg kan sige: "Jeg går glad afsted og kommer endnu gladere hjem", tror jeg ikke, der sker ændringer.