Verdensklasse i Herning
Der vil være plads til 3000 tilskuere ved VM i paradressur i Herning, der afholdes sammen med tre almen-ride-discipliner. Målet er at afholde de bedste verdensmesterskaber nogensinde.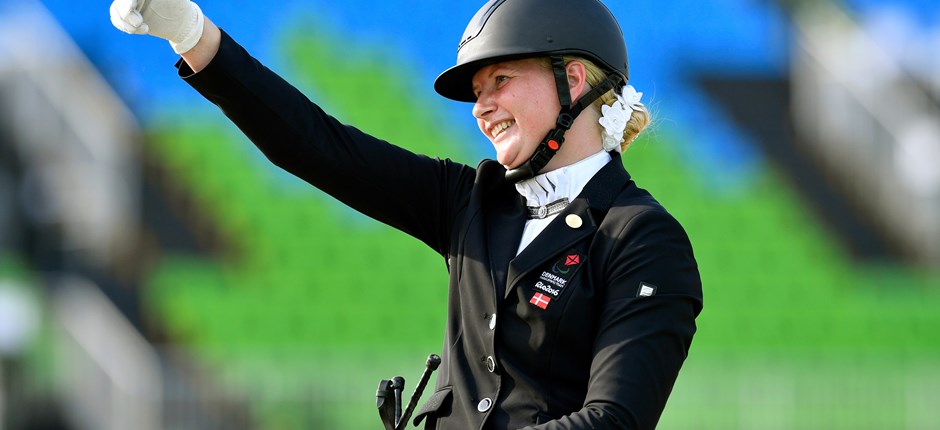 Tekst: Ane Rønn Johansson
Ambitionerne er høje, når 700 af verdens bedste ryttere fra 70 lande til august samles på den jyske hede til verdensmesterskaberne i springning, dressur, voltigering og paradressur. De tre almen-discipliner afholdes i Jyske Bank Boksen og MCH Arena, der til lejligheden er omdøbt til Stutteri Ask Stadium, mens paradressuryttere konkurrerer på den nyopførte BB Arena med plads til 3000 tilskuere. Omkring arenaerne vil være et veritabelt ridemekka med stalde, udstillingsområde, restauranter, fanzone og meget mere.
"Megaspændende"
Målet er at afholde det bedste verdensmesterskab nogensinde, og derfor har arrangørerne inviteret ryttere og fagfolk fra de fire discipliner med om bordet til forberedelserne. Heriblandt paralandsholdsrytter Susanne Sunesen.
– Det har været megaspændende, og det er et kæmp cadeau at blive inddraget. Der er så mange ting, man skal tænke igennem som arrangør, og det giver god mening, at vi, der har været til de store stævner, giver vores erfaringer videre, siger hun.
Særligt paradressurdelen er kompliceret.  
– Bare sådan noget som transportdelen – skal hver nation have en minibus med plads til kørestolsbrugere, eller er det bedre med en shuttleservice, hvor man bliver samlet op på et bestemt tidspunkt? Og vil de høje klapsalver fra springkonkurrencerne, der foregår på samme tid, gøre hestene bange? Der er mange ting at tage højde for.
Et fedt setup
Susanne Sunesen har oplevet en stor velvilje og lydhørhed fra arrangørerne.
– Vi har blandt andet haft udfordringer med placeringen af para-arenaen. Først lå den meget langt fra staldene, og det fik vi ændret, for det ville være en udfordring for de dårligt gående. Det har været en god proces. Der vil altid være noget, der måske kunne have været gjort endnu bedre, men de har virkelig prøvet at tage højde for alle problemstillinger.
Hun er selv blandt de pararyttere, der i skrivende stund kæmper om én af de fire danske VM-pladser.
– Det bliver en stor fordel at ride på hjemmebane, og jeg håber selvfølgelig, at jeg kommer med. Men uanset hvad glæder jeg mig over, at man i Danmark kan opleve et så flot VM på hjemmebane. Det bliver et fedt setup, og jeg tror, vi kommer til at vokse ti centimeter af stolthed over at være danskere, slutter hun.
VM i ridning 2022
VM i springning, dressur, paradressur og voltigering finder sted i Herning den 6.-14. august 2022.
Paradressurkonkurrencerne afvikles den 10.-14. august. Der forventes op mod 200.000 tilskuere.

Dansk Ride Forbund, Herning Kommune, Sport Event Denmark og VM-selskabet ejet af Casper Cassøe og Jens Trabjerg, står bag VM.