FRIVILLIG IFORM: VERDENSMESTRE I AT HAVE DET SJOVT
For badmintontræner Maria M. Sorribes er det vigtigt, at alle mennesker har mulighed for at opleve glæden ved sport.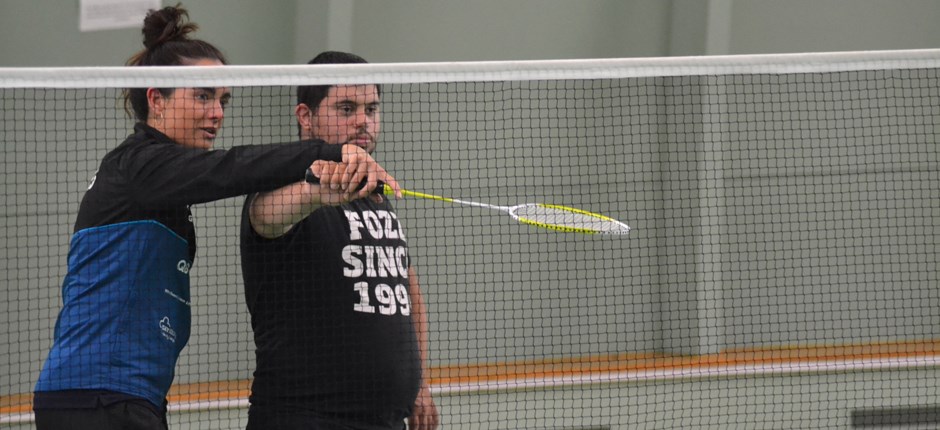 Af Jørn Erik Simonsen
Hvordan startede du som frivillig?
De tidligere trænere i Højbjerg Badmintonklub kunne ikke fortsætte, og jeg blev spurgt om det kunne være noget for mig. Jeg havde ingen erfaring med mennesker med handicap, men det var noget jeg gerne ville støtte op om. Den glæde, der skabes i sporten, synes jeg er unik: at vi i situationen glemmer alt omkring os, både bekymringer, ting vi måske ikke er så gode til eller usikkerhed. Sporten giver mulighed for at få tankerne væk fra en hverdag, der for nogen kan være hård. Det er min grundlæggende indstilling, og måske var det derfor, jeg blev spurgt.
Hvorfor er du frivillig? 
At møde op søndag eftermiddag og være med til at få smilet frem på læben af mine spillere, er grunden til, at jeg er træner. Og samtidig at skabe et trygt rum for spillerne, hvor de ved at de er accepteret, og der er personer omkring dem, som respekterer dem. Jeg synes det er vigtigt, at vi gør sport til noget, som er for alle uanset køn, alder, religion, handicap osv.
De succesoplevelser som spillerne oplever, giver mig også en kæmpe tilfredsstillelse og glæde. Hvis de får slået et godt smash eller lavet en god serv, skaber det en kæmpe selvtillid. Det kan godt være at man ikke bliver verdensmester, men så kan man blive verdensmester i at have det sjovt mens man dyrker sport.
Hvad er din største oplevelse?  
En rigtig god oplevelse var, da vi i forbindelse med Parasport Danmarks 50 års jubilæum for første gang i klubben afholdt stævne for alle landets badmintonspillere. Der deltog mange spillere, og der blev skabt venskaber på kryds og tværs af klubberne. Det giver en kæmpe tryghed og glæde hos spillerne, når de igen mødes til stævner - måske efter flere måneder - og stadig kan hygge sig med hinanden. Spillerne er gode til at konkurrere mod hinanden, men de er virkelig gode til at være kammerater udenfor banen.
Hvad er du mest stolt over?
Jeg er stolt over, at vi har startet et ekstra hold op, mens jeg har været ansvarlig. Vi startede med et hold for personer med et udviklingshandicap, og nu har vi også et hold for personer med et fysiske handicap.
De to hold differentierer sig ret meget fra hinanden, hvilket giver en god kontrast og en forståelse af, at "handicap" kan være mange forskellige ting. På vores Special Olympics hold handler det ofte mere om at alle har det godt og stemningen er god. På vores hold for spillere med et fysisk handicap, er træningen mere målrettet og teknisk, med større fokus på kvaliteten af slag og benarbejde.
Fakta: 
Maria M. Sorribes
24 år

Studerer til fødevareingeniør

Badmintontræner for personer med et fysisk handicap og personer med et udviklingshandicap i Højbjerg Badmintonklub og ansvarlig for disse to hold. 

Medlem af badmintonudvalget