For elitær
At dyrke sport to gange om ugen var ifølge kommunen et ekstremt højt idrætsniveau. Derfor kunne Nikolaj Richelsen ikke få tilskud til en ny floorball-kørestol.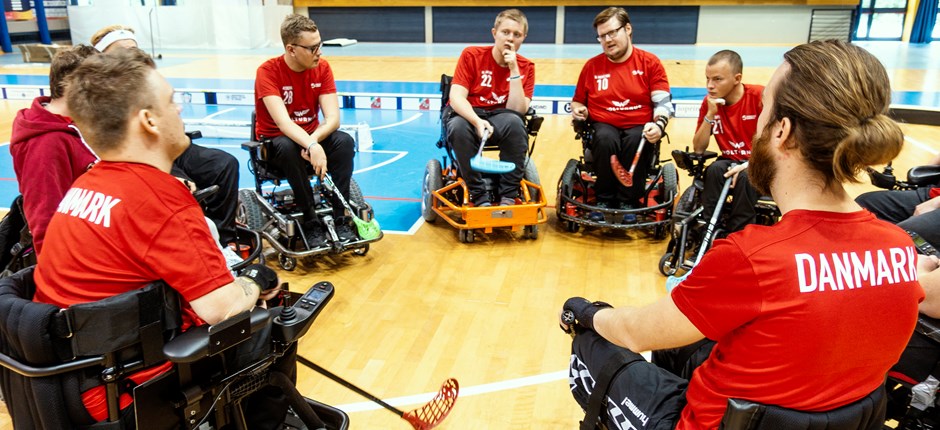 Tekst: Kristian Bang Larsen
28-årige Nikolaj Richelsen går til Powerchair Floorball hver tirsdag, og når han har tid, gå han også til el-hockey om lørdagen. En håndfuld gange om året er han til stævner.
Træning 1-2 gange om ugen lyder ikke som et højere idrætsniveau end hos mange idrætsaktive danskere, og er ikke langt fra Sundhedsstyrelsens anbefaling om en halv times motion om dagen. Men i Brøndby Kommune synes man, at det er et "ekstremt højt idrætsniveau", og derfor fik Nikolaj ikke tilskud til den floorball-kørestol han søgte om i foråret 2021, da den gamle var slidt op.
- Jeg bliver pure afvist af Brøndby kommune. Med den begrundelse, at jeg spiller to forskellige sportsgrene og at det er et ekstremt højt idrætsniveau - synes de. Og så det, at jeg spiller på landsholdet, fortæller Nikolaj.
Hvis vi ikke kan få støtte til de her stole, så er der ikke nogen sport.
Landshold er ikke altid elite
Reglerne om tilskud til idrætshjælpemidler når man har et handicap siger, at man kan få støtte til breddeidræt, men ikke til eliteidræt. Og da Nikolaj er på landsholdet i Powerchair Floorball, blev han kategoriseret som elite. Det mener han ikke han er.
- Vi er ca. 20 aktive på landsplan, og landsholdstruppen er på 10 spillere, så man er jo næsten på landsholdet med det samme. Vi træner én gang om ugen i vores klubber, og landsholdet får hverken elitestøtte af Parasport Danmark eller Team Danmark eller har store sponsorer, siger han. 
- Jeg synes det er fair, at kommunen ikke dækker, hvis man er en PL-eliteatlet, der skal have det nyeste og bedste udstyr for at kunne toppræstere ved PL, og som har mulighed for at få sponsorer og elitestøtte. Men vi er en breddeidræt.
Dyre stole
Nikolaj Richelsens stol er dog dyr. Da kommunen med det samme afviste Nikolaj Richelsens ansøgning, har pris endnu været vurderet, men floorball-sportsstole koster typisk over 100.000 kroner.
- Kan du forstå hvis nogen tænker, at det er mange penge for at du skal dyrke sport?
- Det kan jeg sagtens forstå, for det er rigtig mange penge, og det er en meget reel problematik, siger Nikolaj Richelsen.
- De to andre stole jeg har haft, har jeg også selv været med til at fundraise. Jeg er ikke interesseret i at lænse kommunen for at få en ferrari-model, for det er en breddeidræt. Men hvis det er mange penge for en kommune, så er det ekstremt mange penge for en privatperson. Hvis vi ikke kan få støtte til de her stole, så er der ikke nogen sport, pointerer han.  
Nikolaj Richelsens sag bliver nu behandlet i Ankestyrelsen. En afgørelse forventes over sommeren.