"Du kan bare gå til fitness"
Michael Løje fik et blankt afslag, da han ville søge om en motions-håndcykel, efter han fik et handicap. Du kan bare gå til fitness, lød det fra kommunen.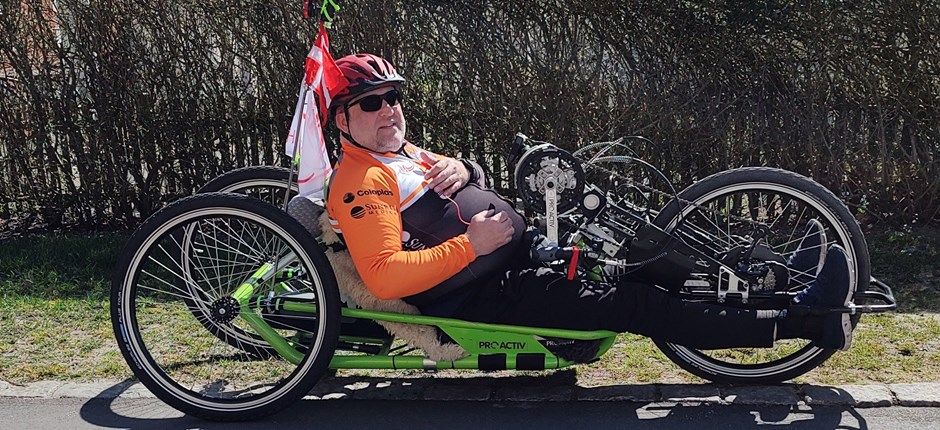 Tekst: Kristian Bang Larsen
Michael Løje kunne lige så godt opgive at søge på forhånd. Det var det han fik at vide, da han kontaktede Hjælpemiddelhuset i Morsø Kommune for at høre om, hvordan han skulle søge tilskud til den håndcykel han ønskede sig.
- De fortalte mig med det samme, at jeg ikke kunne få en cykel. Det var luksus, og jeg kunne bare gå ned i motionscenteret og træne i stedet, fortæller han.
Michael Løje var kommet til skade ved en ulykke i 2016, og begyndte i 2018 at gå til håndcykling gennem Dansk Håndcykelklub. I starten kørte han på en cykel han lejede af klubben, men hurtigt viste det sig, at den ikke opfyldte hans behov.
- Jeg bor et sted i Danmark hvor cykelstier er en mangelvare, Så jeg havde brug for en cykel jeg kunne bruge i skoven og på de lokale grusstier. Jeg har desuden et stor behov for motion, da jeg både har KOL og diabetes ved siden af, at jeg sidder i kørestol, forklarer Michael Løje.

Indsamlede 56.000 kroner
Meldingen fra kommunen betød, at Michael i stedet søgte fonde og lokale virksomheder om hjælp. Det tog to-et-halvt år og flere hundrede ansøgninger, før han sidste år endelig havde skaffet de 56.000 kroner hans motions-håndcykel kostede.
- Det var en hård kamp, men det var skønt da det endelig lykkedes. Det er en hybridcykel, hvor jeg kan skifte mellem racerdæk og terrængående dæk, og køre på grus og i skoven. Jeg har prøvet motionscentre, men jeg kan ikke have det. Jeg vil træne ude i naturen, og have mulighed for at gøre det med min kone, mine børn og andre håndcykelryttere. Det betyder alt, siger han.