Nu klub: Det kører for dansen i Aarhus
Verdens mest vindende dansepar har startet et kørestols-dansehold i deres klub. Og Dance on wheels er en succes.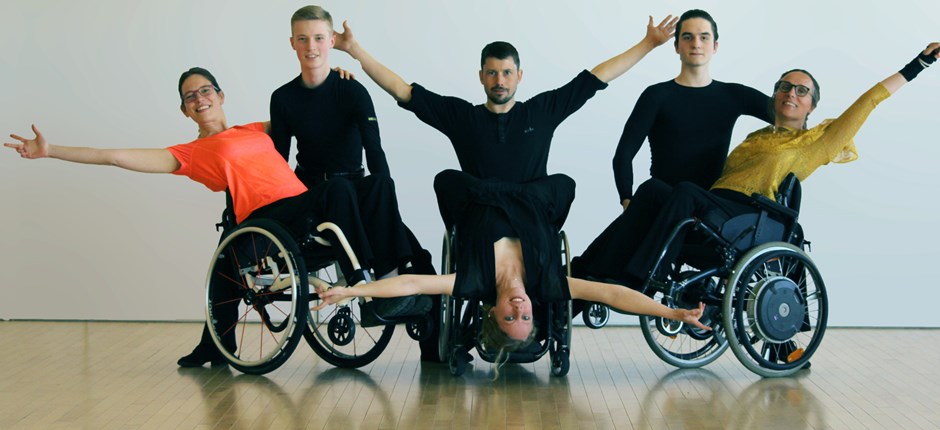 'Just Dance Studios er et ganske særligt sted med hold fra de allermindste nybegyndere til elitedansere. Bag klubben står verdens mest vindende dansepar, Ashli Williamson og Bjørn Bitsch, som for få måneder siden indstillede deres internationale karriere efter at have vundet deres tiende verdensmesterskab.
I foråret 2019 startede klubben for første gang et hold for kørestolsbrugere, der i klubbens lokaler i Højbjerg undervises i bl.a. vals, slowfox, cha-cha-cha og rumba af instruktør Daga Rutkowska.
At kørestolsdans overhovedet kom på programmet skyldes, at Ashli Williamson og Bjørn Bitsch gennem deres mange rejser til konkurrencer over hele verden så, hvor udbredt det var i andre lande. Og så fik de hjælp af en god kollega, Soffie Dalsgaard.
– Vi ville gerne i gang og så, at Soffie Dance Studio i København havde et hold, så vi var derovre og fik et kursus i det. Vi fik lov til at træne med deres dansere og få viden om, hvad man skal være opmærksom på, hvor går grænserne, hvad kan man forvente i løbet af en sæson og alle de ting, vi ikke vidste noget om. Det var superspændende, siger hun og fremhæver i samme ombæring den hjælp, klubben fik fra Parasport Danmark.
– Vi havde også meget kontakt med idrætskonsulent Mette Skovgaard, der havde så meget viden på det her område, hvor vi var helt blanke. Hun hjalp os også med at skaffe kørestole, deltagerne kan låne. Det var en stor hjælp.

En dybere mening
Det viste sig hurtigt, at der var et behov i det jyske.
– Vi startede med at lave et otte ugers-kursus for at se, om der var opbakning, og det var en kæmpe succes. Nu træner holdet, der i øjeblikket har omkring ti deltagere, fast hver torsdag.
Og der er ingen tvivl at spore, når man spørger Ashli Williamson, hvad det giver klubben at have et hold i kørestolsdans.
– Det har givet en dybere mening for os at have en forening, som kan tilbyde noget, der faktisk kan ændre folks liv og give glæde og begejstring. Det giver en helt anden energi i klubben, og det er også et vigtigt signal over for alle de andre medlemmer i vores klub – ikke mindst børnene, siger hun og forsætter.
– Vi har også haft børn med mentale udfordringer som social angst, ADHD og autisme, som udvikler sig enormt gennem dansen og de rammer og den disciplin, der er her. De bliver trygge og kan pludselig være med på lige fod med alle andre, siger hun.
Yderligere information
https://justdance.dk/, kontakt@justdance.dk eller på Facebook: Just Dance on Wheels