Der er rige muligheder for at dyrke langrendsskisport med et bevægelseshandicap eller et synshandicap.
Langrendsskiløb er en konditionskrævende idræt, der stiller krav til muskelstyrke og udholdenhed samt koordination og balance, og langrendsskiløb giver samtidig gode muligheder for enestående naturoplevelser på fjeldet eller i skoven.
Personer med nedsat balance og/eller delvise lammelser i kroppen kan ofte gå på to ski enten med to stave eller en stav eller skistativ.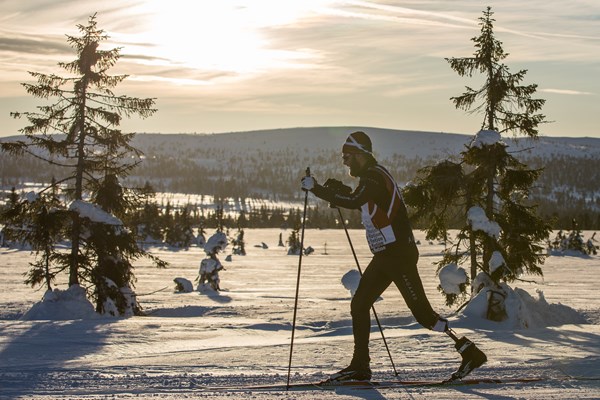 Underbensamputerede går på to ski, hvor protesen kommer i skistøvlen på samme måde som i en almindelig sko. Personer med eksempelvis dobbelt benamputation, lammelser i begge ben eller en højere rygmarvsskade kan benytte en såkaldt Skikælk/piggekjelk. Skikælken tilpasses personen, så den giver optimal støtte og maksimal bevægelsesfrihed til at stage sig frem ved hjælp af to korte skistave - indstillelige stave foretrækkes.
For langrendsløbere med et synshandicap, kan der løbes med en guide, der efter aftale placerer sig hensigtsmæssigt i fht. løberen med synsnedsættelse og kan guide skiløberen i forhold til løjpesporets forløb. Guiden bærer gul 'guide'-vest og taler med løberen via headsæt og højtaleranlæg.

Langrendsløb er på vej frem blandt idrætsudøvere med udviklingshandicap. Langrends skisport for personer med udviklingshandicap kan dyrkes efter Special Olympics konceptet – og i Parasport Danmark sendes der, hvis muligt, atleter til Special Olympics Winter World Games hvert fjerde år.


Konkurrencetyper
Der findes forskellige konkurrencetyper inden for Langrend. For langrendsløbere med et fysisk- eller synshandicap er elite og motionsløb mulige. Der er konkurrencer i gående og siddende klasser, på korte eller lange distancer. Der kan konkurreres i klassisk eller skøjt for gående. I Special Olympics-regi findes der meget forskellige konkurrencer fra 10 m til 10 km og flere holdstafetter.

Klassificering
For at sikre en fair konkurrence klassificeres udøverne ud fra graden af deres funktionsnedsættelse og tildeles en koefficient som den samlede tid udregnes efter. Parasport Danmark benytter de til enhver tid gældende regler i IPC. I regi af Special Olympics klassificeres atleterne på stedet, forud for konkurrencen med indledende gennemløb. Der skal være klasser for både begynder, mellem og øvet niveau.


label