Sommerkursus på Egmont Højskolen
Kurset Idræt for alle på Egmont Højskolen er et tilbud til dig, der gerne vil bruge en uge af din sommerferie på idrætsaktiviteter og socialt samvær i naturskønne omgivelser.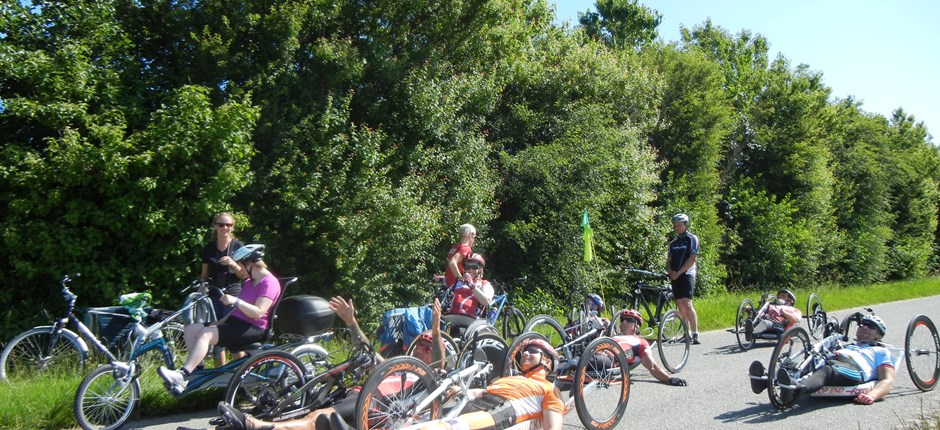 Udgivet 07-12-2018 (Opdateret 21-04-2020)
NB! Parasport Danmark og Egmont Højskolen følger myndighedernes anbefalinger og håber fortsat, at det er muligt at afvikle sommerens kursus. Vi har først og fremmest et ansvar for ikke at udsætte særligt sårbare for smitte med coronavirus, og hvis ikke det kan gøres forsvarligt, er vi nødt til at aflyse. Indtil videre tager vi imod ikke-bindende tilmeldinger og opretter venteliste. Såfremt kurserne ikke kan gennemføres, eller I ikke ser jer i stand til at deltage, refunderer vi naturligvis deltagerbetalingen.
Parasport Danmark og Egmont Højskolen har et godt tilbud til alle idrætsinteresserede og deres familier. Kurset afholdes på højskolen i Hou ved Odder fra den 29. juni til den 5. juli 2020. Udover de velkendte paraidrætter og blandede fag er der i år to helt nye muligheder på programmet: Kørestolsidræt samt Havvand, bevægelse og forkælelse. Som i 2019 er der også mulighed for at dyrke Dans, Paradart og E-sport.
Udover fagene/idrætterne vil der være fællesundervisning, foredrag og socialt samvær. Her vil de forestående Paralympiske Lege i Tokyo være fællesnævner, men deltagerne skal også omkring "Mord og øl"!
Hovedfag
Paradart
E-sport
Dans
Back to Life
Powerchair Football/Kørestolsfodbold
Kørestolsidræt
Sejlads
Cykling
Havvand, bevægelse og forkælelse
Idræt på kryds og tværs
Værkstedsfag: glas
Læs mere om de forskellige idrætter og fag i folderen, som kan downloades her.
Kurset er for alle med og uden handicap. Tag din kæreste, ven eller andre med, som har lyst til at opleve højskolen og parasportens verden. Der er også plads til børn.
Praktiske oplysninger
Ankomst: Mandag den 29. juni 2020 mellem kl. 15 og 17
Afrejse: Søndag den 5. juli 2020 kl. 12 senest
Priser: Voksne over 17½ år: 3.950 kr. Børn 4-17½ år: 1.650 kr. Enkeltværelse: +300 kr.
Tilskud: Egmont Højskolen administrer på vegne af Vanførefonden, Bevica Fonden og Bevica Legater puljen "Den gode oplevelse i fællesskab med andre". Her er det muligt at søge om egen og/eller ledsagers ophold. Find ansøgningsskema på www.egmont-hs.dk eller kontakt højskolen direkte.
Tilmelding: Du kan tilmelde dig elektronisk via Egmont Højskolens hjemmeside. Klik her for at komme til tilmeldingssiden.
Sidste frist for tilmelding er den 4. maj 2020.
Spørgsmål og yderligere oplysninger
Mogens Jensen, idrætsmedarbejder i Parasport Danmark
E-mail: moj@parasport.dk
Tlf.: 20 33 50 40
Egmont Højskolen
Tlf.: 87 81 79 00
E-mail: mail@egmont-hs.dk