EM i kørestolsrugby 2019
Vejle Kommune, Sport Event Denmark og Parasport Danmark er værter for EM i kørestolsrugby 2019, der afvikles i dagene 7.-11. august i DGI Huset Vejle.
Danmarks fremadstormende landshold i kørestolsrugby arbejder benhårdt på at indtage førerpositionen i europæisk kørestolsrugby, og senest ved VM 2018 i august viste holdet, at de er på rette vej. Med ansættelsen af den amerikanske landstræner Jason Regier for godt halvandet år siden er ambitionsniveauet tårnhøjt, og værtskabet for EM er en del af en ambitiøs strategi, der skal være med til at kvalificere holdet til de Paralympiske Lege for første gang i historien. Helt konkret kræver det en finaleplads ved EM i 2019.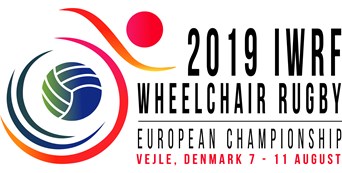 I Vejle får holdet de bedst tænkelige rammer for at jagte den paralympiske drøm. Med placeringen i DGI Huset får spillerne optimale faciliteter, da tilgængeligheden er i top, og indkvarteringen kan foregå i umiddelbar nærhed på Vejle Center Hotel. Samtidig er placeringen centralt i byen optimal for både deltagere og for byens borgere, der får lov at tage del i en unik sportsbegivenhed. At byens borgere bakker op om parasporten har de tidligere vist, senest ved EM i parabordtennis i 2015, hvor der var fantastisk opbakning på lægterne i Spektrum.
Danmark har tidligere været vært for EM i kørestolsrugby i 2005 (Middelfart) og 2009 (Hillerød) samt for VM i kørestolsrugby i 2014 (Odense). Vejle har tidligere været vært for EM i parabordtennis i 2015.
Om kørestolsrugby
Kørestolsrugby eller 'murderball', som sporten oprindeligt blev kaldt, er udviklet i Canada i 1970'erne og er en holdsport med elementer fra rugby, basketball og håndbold. Spillet blev udviklet for atleter, der foruden nedsat funktion i benene også havde nedsat arm- eller håndfunktion, og det er således et krav, at spillerne har nedsat funktion i mindst tre ud af de fire ekstremiteter.
To hold a fire spillere spiller mod hinanden og skal få bolden over modstanderens mållinje. Der må afleveres, kastes, trilles, dribles og bæres i alle retninger, og det er tilladt at have kontakt mellem stolene – faktisk er det en central del af spillet at tackle, holde eller blokere for modstanderen.
Danmark ligger p.t. nr. otte på verdensranglisten med Frankrig, Sverige og Storbritannien lige foran sig. Storbritannien er forsvarende europamester fra 2017.
Følg med
Hjemmeside: 2019wrec.com
Facebook: facebook.com/2019wrec
Kontakt
Eventchef Torben Hahn Nygaard
Tlf.: 24 91 44 85
Mail: thn@parasport.dk