Sportsskole i Fredericia 2021
Sportsskolen i Fredericia inviterer til fire dage i sommerferien med masser af idræt, aktiviteter og sjov i fællesskab med andre børn og unge med handicap.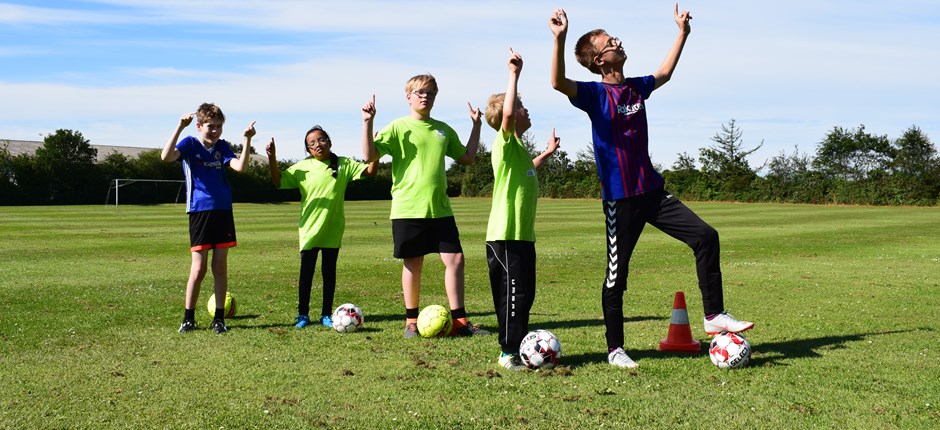 Læs om sportsskolen i Fredericia og tilmeld dig nederst på siden (tilmeldingen åbner den 11. juni, og tilmeldingsfrist er den 18. juli 2021).
Tidspunkt: Uge 31, mandag den 2. august – torsdag den 5. august 2021, kl. 09.00-14.00.
Sted: Kirstinebjerghallen, Havepladsvej 175, 7000 Fredericia
Idrætter: Om formiddag kan deltagerne vælge mellem gymnastik, svømning og basketball, og om eftermiddagen er der Børne-OL med en masse forskellige konkurrencer og aktiviteter.
Til gymnastik skal vi lege, bevæge os til musikken og have det sjovt på redskaberne.
Til svømning skal vi arbejde med vandtilvænning og gode oplevelser med vand. De dygtige instruktører fra Svømmeklubben Magnum Opus vil introducere lege og andre aktiviteter, som tilpasses den enkelte samt gruppen.
Til basketball skal vi kaste og gribe. Vi skal grine og prøve forskellige skud mod kurven. Til sidst skal vi runde af med at spille basketballkamp.  
Arrangører: Sportsskolen i Fredericia arrangeres af G94 og Fredericia Kommune.
Deltagere: Sportsskolen i Fredericia er for børn og unge i alderen 6-18 år med handicap (f.eks. udviklingshandicap, fysisk handicap, synshandicap, autisme eller ADHD). Deltagere med et personligt hjælperbehov skal have egen hjælper med.
Der er plads til 20 deltagere på sportsskolen i Fredericia.
Deltagergebyr: Det er gratis for børn og unge, der er bosat i Fredericia Kommune (Fredericia Kommunes Feriesjov dækker deltagergebyret). For deltagere uden for Fredericia Kommune er prisen 500,- (betalingsoplysninger følger efter tilmelding). Alle deltagere modtager sportsskolepakken, der består af en t-shirt, drikkedunk, "årets ting", sportsskolediplom og medalje.
Transport og forplejning: Transport til og fra sportsskolen er hjemmets ansvar, og deltagerne skal medbringe egne mad- og drikkevarer.
Sportsskoleleder: Gitte Bendixen, gittebendixen@me.dk
Tilmeldingen åbner den 11. juni.